Go Back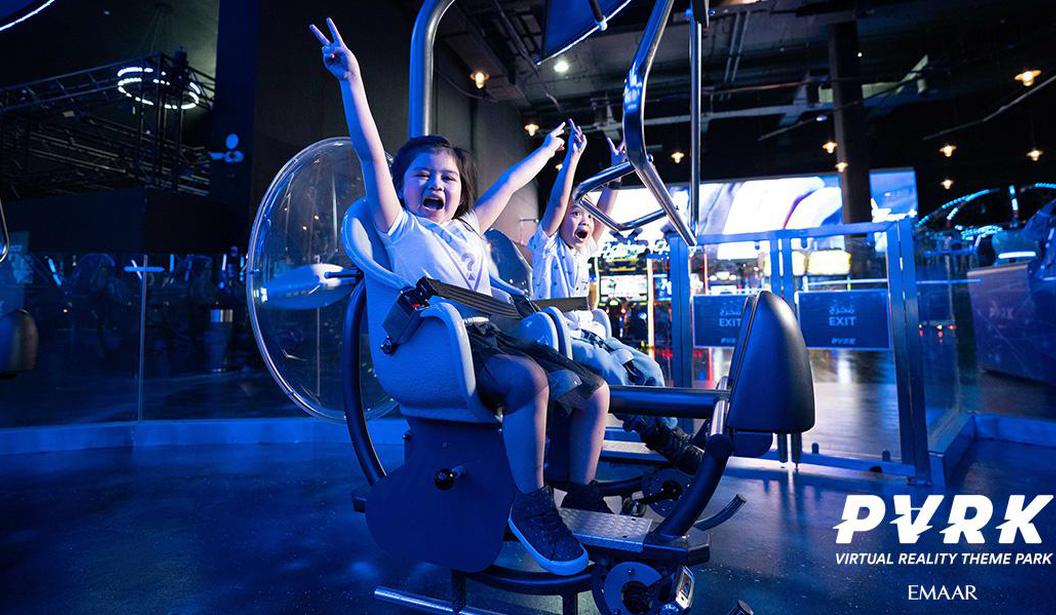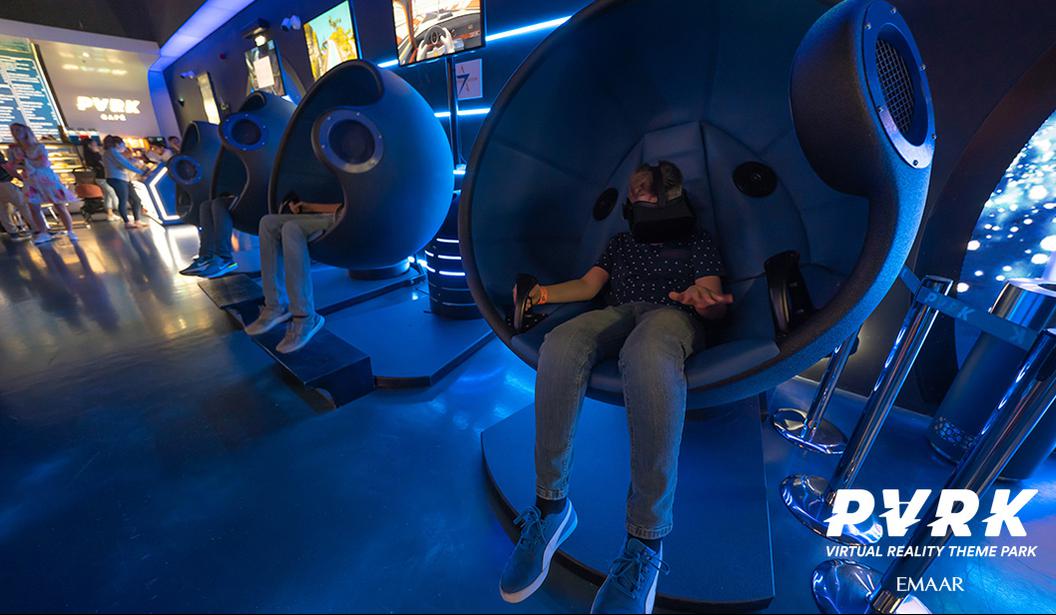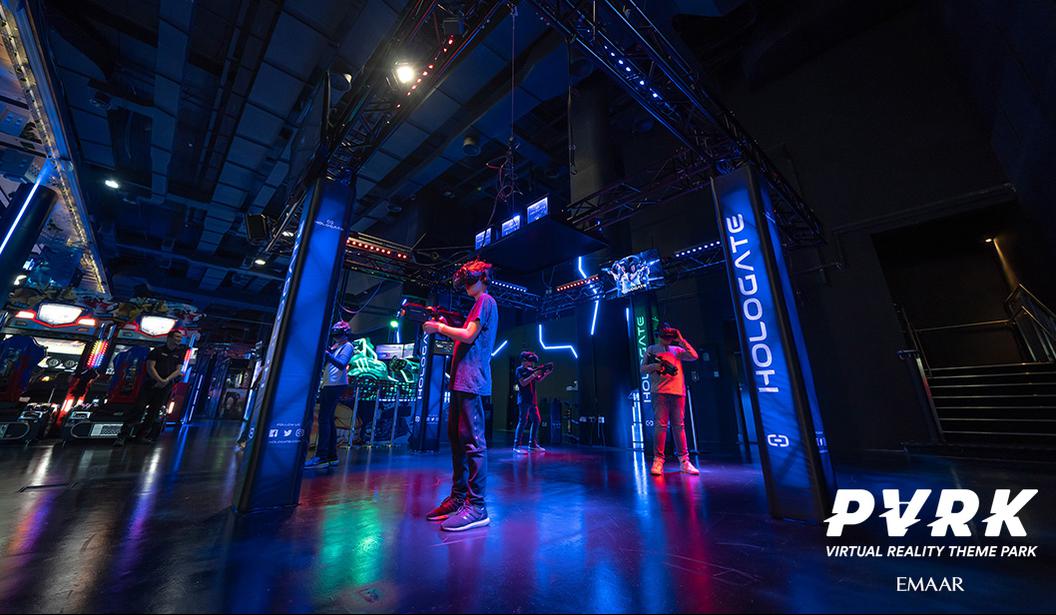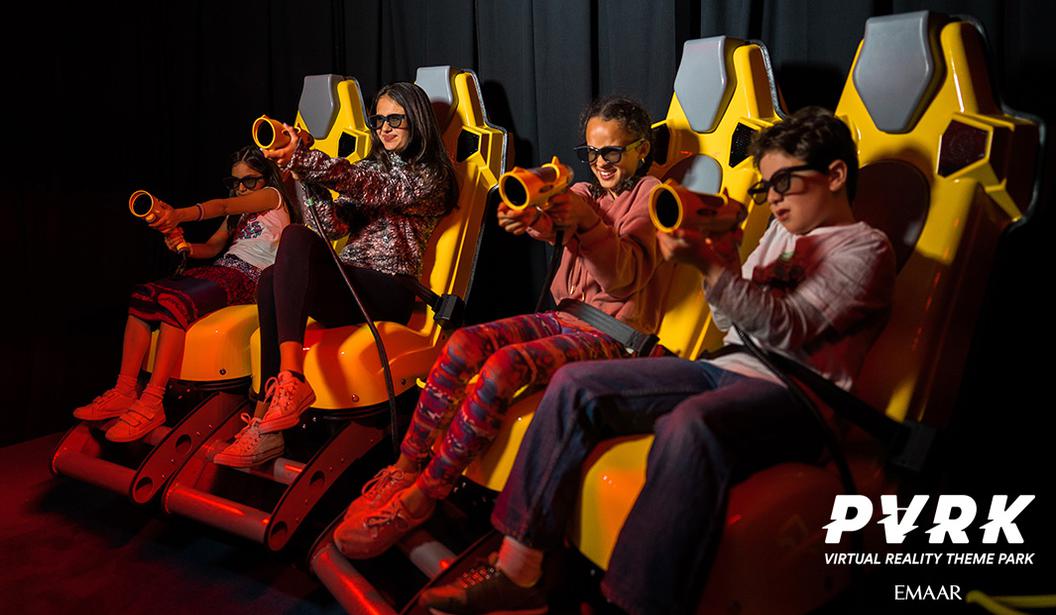 Get 55 AED cashback, when you book through our mobile app!
Daily 12:00 to 22:00
Dubai Mall, Downtown, Downtown / Business Bay
KIDZAPP DEAL: Get a 10% discount on a VR Park Super7 Pass that gives you access to 7 of VR Park's Top Experiences.

(Arcade games and F&B are not included in this pass)

About VR Park:

This theme park includes immersive rides, educational and info-taining journeys, interactive games and even a virtual reality roller coaster. The multiplayer games combine virtual reality with augmented reality to create a truly out of this world experience for gamers and non-gamers alike.

Don't miss out on their family-friendly rides that include Cosmo Jet, Flying Chairs and Magic Bikes, that will take you soaring to new heights of fun.

--RIDES & ATTRACTIONS--

Cozmo Jet -- Take off on a mini-jet ride and embark on a space mission to save the universe by blasting off aliens. One player controls the vehicle's movement while the other controls shooting the aliens on the screen.

Magic Bikes -- Fly your way through the sky on a magic bike ride with this interactive, hang glider themed vehicle which gives you full pedaling control of your own thrilling experience!

Flying Chairs -- Take a seat and get ready to soar high in this classic swing ride for the little ones. A child-friendly ride that will have you going round and round to funky music tracks.

Dubai Drone -- In 2050, the Dubai population moves around in drone taxis and the sky is filled with traffic. Hold on tight when your taxi through Dubai spins out of control…

Burj Drop -- A normal day at work, as a window washer at the top of Burj Khalifa, goes horribly wrong when one by one, the cables of the basket breaks. Will you be saved in time?

Dune Bash -- A UAE desert 4WD experience like no other. Climb on board this futuristic jeep on a hair-raising journey encountering camel spiders, scorpions, snakes and other nasties along the way

Stealth -- How stealth are you? Be the captain of your own experience by having steering control of your own flight in this thrilling, self-directed ride.

SpeedWay -- Hop in to a two-seater race car that runs on an oval track and buckle up for a speedy ride with the whole family!

Drifters -- An experience for the whole family. Challenge your friends to try out the region's first drifting bumper cars.

Active Zone -- Get ready for an action-packed time with this all-new Active Zone which features 4 different games that integrate AR into its game play to keep you on your toes!

VR Sports -- For the ultimate sports enthusiast and the competitor within, test your skills in a number of sporting events, from tennis to football, golf and basketball, to boxing and hockey.

Beat Saber -- Don't miss a beat as you avoid obstacles and slash oncoming cubes in this VR rhythm game!

Hologate -- Take your friends on an exhilarating adventure in a new reality, and experience this fascinating world together. Fight robots, dragons and zombies, throw a virtual snow ball or bond together and try to escape a sinking submarine. Step inside our high-end system and you will forget about pixels and technology as soon as you put on the headset.

Robocom VR -- Man your own spaceship and navigate through a world full of aliens and space stations in this fast paced, dynamic level-based game.

Black Badge -- Gather your crew and take the lift together to a place where the Black Badge's shuttle was supposed to have landed. Carry out a mission to save a comrade from an unidentified monster!

Paradrop -- The first Virtual Reality paragliding ride in the Middle East which combines physical movement with stunning virtual reality content. There's nothing closer to the real thing!

Sphere -- Immerse yourself into a different reality with the world-first 3 axis turning virtual reality simulator, providing a new and unforgettable experience.

Holocube -- Delve into a new reality, from becoming a fruit ninja to a space pirate trainee. Try out a range of interactive and fun, virtual reality single player games.

XD Dark Ride -- An Incredible interactive attraction for the whole family. THIS IS ONE GIGANTIC MOTION SHOOTING EXPERIENCE.

VR Maze -- VR Maze blurs the lines between the real and the virtual. Enter an amazing immersive and interactive VR experience.

We Play -- A unique walkthrough VR maze experience that offers realms of VR excitement for the whole family.

Virtual Rabbids -- Featuring naughty and wacky Rabbids, players can choose from the unique experiences that are full of twist, turns, thrills & spills.

Arena - AR 1 -- Step into another reality. Get up close and personal with polar bears in the arctic, have an adventure with dinosaurs or join a space crew on their mission.
More
Less
Activity Prices
Super 7 Pass
(Tickets valid for 6 months from purchase)
BUY
Save 10% on the Super7 Pass + Get AED 50 Cashbak
We loved it
5.0

5

Love it!

a month ago

Razan odeh
This is a fantastic and immersive experience that you have to try at least once. The VR park is one of the biggest in the world and has so many incredible games. It is not something you want to miss and your kids will love it.
0
Interesting
5.0

5

Love it!

9 days ago

Anonymous
The VR experience was exciting and impressive with how realistic it felt. There are a lot of games so you won't be bored, even if you played the same games over and over.
0
Suggest a Correction