Go Back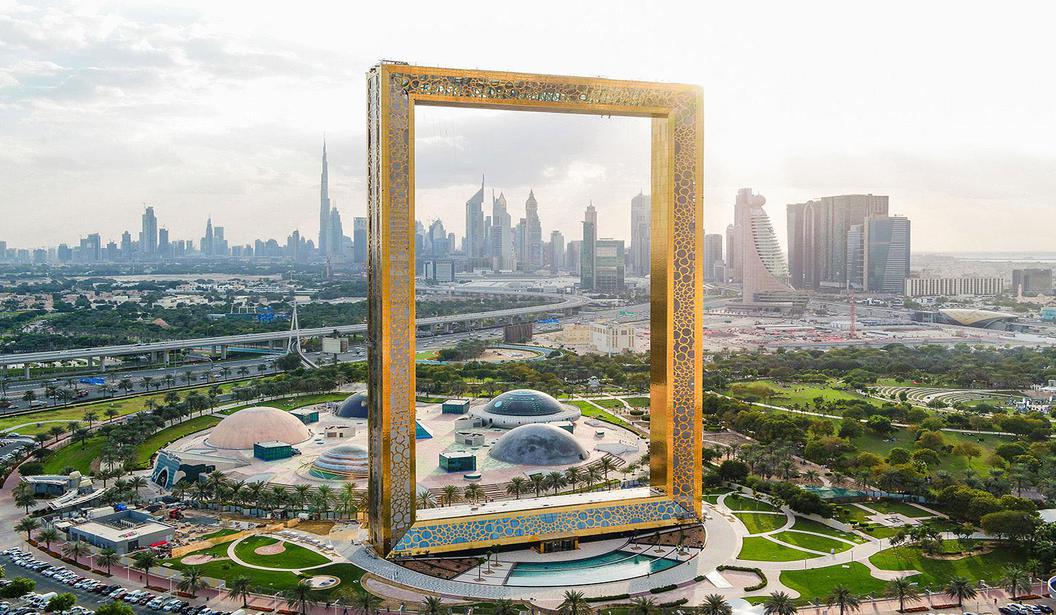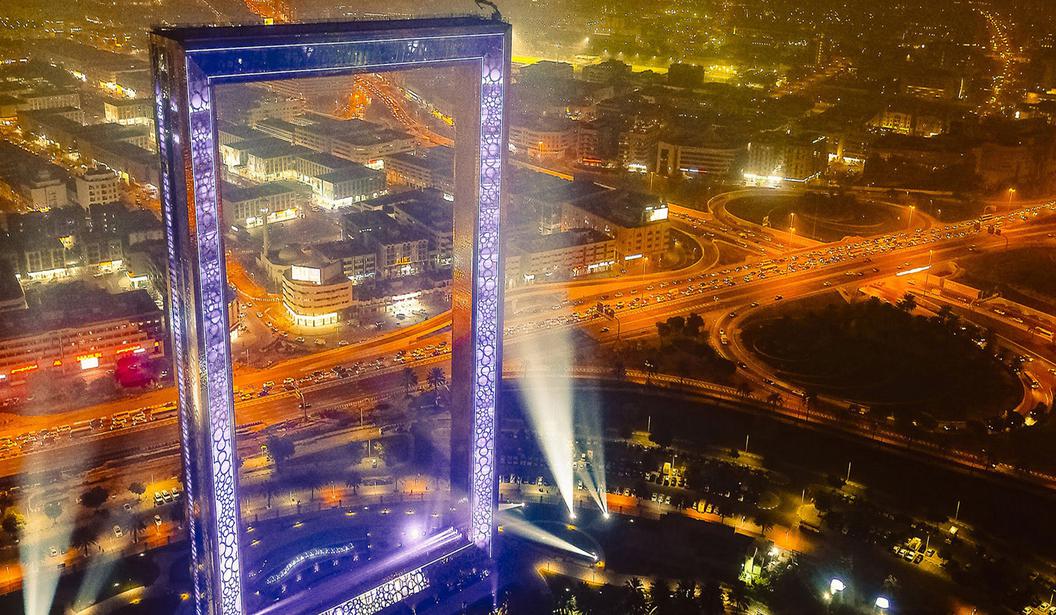 Get 2 AED cashback, when you book through our mobile app!
Daily 9:00 to 21:00
Zabeel Park, Gate 1, Bur Dubai, Oud Metha
Go on a journey through time and experience old, present and future Dubai all under one roof. Get ready for a wonderful mix of special audio and visual effects, projections, mist effects, smells, and motion that creates an immersive mood setting of space plus gorgeous 360-degree views of our wonderful city.

--FACILITIES--

The iconic structure 'frames' impressive views of Old and New Dubai, while serving as a metaphorical bridge connecting the emirate's rich past with its magnificent present.

FUTURE DUBAI GALLERY
Exit the elevator onto the mezzanine floor and pass through a swirl tunnel with special audio and visual effects.

PRESENT DUBAI
You will then be directed to the second experience on the Sky deck level representing the Present Dubai. They experience uninterrupted views of Dubai from all sides, "Old Dubai" to the north, and "New Dubai" to the south.

OLD DUBAI GALLERY
Starting from the mezzanine, make you way into a multimedia exhibition charting the city's rapid transformation from a fishing village to a thriving modern metropolis, with fascinating insights on Emirati heritage.

Their outdoor garden is a lovely place for you and your kids to relax outdoors when the weather permits. You can also grab a snack and drink from their cafe.

--BENEFITS OF GOING--

Take some stunning family photos with a spectacular backdrop of panoramic views of the city. The Dubai Frame is the largest frame in the world (according to Guinness World Records), and celebrates the story of Dubai from its early establishment to its ambitious plans for future development.

You can do more than simply looking through the frame. In fact, the glass, aluminum, steel, and reinforced concrete structure also doubles as an observation tower that boasts fantastic panoramic vistas. If you're brave enough, step onto the glass floor onto the the 93 metre-long bridge, which features a 25sqm glass panel. Stepping onto the crystal-clear glass gives the exhilarating feeling of walking out into thin air, with a drop of 150m visible just beneath your feet. There's nothing to fear as the clear glass is completely crack-proof and made of the highest-quality materials.
If you have kids or grown ups that are terrified of heights, we suggest you skip that part.

--FACTS & FIGURES--

- Dubai Frame measures 150 metres high and 93 metres wide.

- Over 9,900 cubic metres of reinforced concrete, 2,000 tons of steel and 2,900 square metres of laminated glass were used in its construction.

- More than 15,000 square metres of gold-coloured stainless steel covers Dubai Frame, which incorporates a ring design inspired by the Expo 2020 Dubai logo.

- Dubai Frame's rectangular design was inspired by the 'golden ratio' of 1.618, which many architects and artists believe forms an ideal structural balance.

- The elevator to the Sky deck carries visitors 48 floors in 75 seconds.

--SPECIAL NOTES--

The Frame is open daily from 9am to 9pm, but timings may differ during Ramadan and public holidays. Make sure to call ahead before visiting.

Dubai Frame can be crowded, so we recommend booking e-tickets ahead of time to secure your spot.

Services and facilities for people of determination:
• People of determination are exempted from entrance fee
• Integrated restrooms designed in line with accessibility needs
• Easily accessible and seamlessly designed service counters

Children under age of 12 must be accompanied by an adult at all times during the visit.
No pets allowed.
No smoking allowed.
No food or beverages allowed.
Don't lean or climb over the railing.
Toys and sharp tools are not allowed.
Respectful clothing must be considered.
Items displayed on exhibitions must not be touched and/or removed.
Don't sit or place children on the railing.
Large bags and strollers must be kept at GATE 4 Counter
More
Less
Activities Prices
General Admission
(Tickets valid for 6 months from purchase)
BUY
Save on your Entry Tickets!
Dubai frame
Beautiful
4.3

5

Love it!

11 days ago

Razan odeh
Must see. I loved that the floor at the top is transparent, which made for some great pictures. The tour takes about 30 minutes and there's a park close by that your kids can enjoy.
It was good and educational. The view from the top was amazing
4.3

3

Like it

2 months ago

Syeda Najiha
lots of insta worthy picture
Suggest a Correction